Swing Of Sahara – Balk 'N' Roll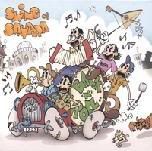 Genre: Jazz, Surf/Balkan Rock
Review: The name of this superlative album by Swing Of Sahara, clearly a play on words, refers to the fact that the group mix rock with Balkan music, and the two are no less resourceful and exhilarating.
While space doesn't permit an exhaustive appraisal of every number, suffice to say that each of them is marvelously performed, and there are impressive solos by the guitarist, trombonist and trumpets which are showcased on Tres Mujeres and Spanjolski. The album closes with a couple of 'swingers' that find the telepathic quartet quickening its pace and raising the collective energy level. One of the most impressive, instrumental releases of the year.
Tracklisting: Viruskilla; El Canibal; Hajen; Tres Mujeres; Spanjolskij; Long Horn Love; Intermezzo; Slowology; Nothing Toulouse; Jarvo Rock; Kattekillingen; Be My Turk; El Viento.
Personnel: Andreas Ugorskij – Guitar; Peter Dobronyi – Guitar, harmonica, crooning; Ole Algreen Reimer – Trumpet, flugelhorn; Jesper Lund – Bass; Sigurd Djurhuus – Drums, percussion.
For fans of: Dick Dale, Umbrella Bed.
Running time: 50:58
Website:
www.swingofsahara.dk
Raise The Shield – Play With Fire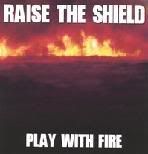 Genre: Heavy/Thrash Metal
Review: There's a lot of aggression and quirky, off-center energy in Dave's playing; his style brings Jeff Waters or Dave Mustaine to mind. He is the leader of the group Raise The Shield, and he is also the composer of all the tunes on the band's debut disc, Play With Fire.
It's great to hear a debut that comes out of the gates blazing like this, full of confidence, with a distinctive modern sound anchored deep in the metal tradition. The group dynamic is loose and spontaneous, and Dave solos with a solid, percussive left hand nailing down his free-flying right-hand explorations..
Tracklisting: Fight Ourselves; Play With Fire; Born A Liar; Life Run Cold; Dream; Gods; Darkness; Deathwish.
Personnel: Dave Cardwell – Lead guitar, rhythm guitar, vocals.
For fans of: Megadeth, Judas Priest, Annihilator.
Running time: 31:55
Website:
www.myspace.com/raisetheshield